---
Profile
---
Yan'an Jiasheng Petroleum Machinery Co., Ltd.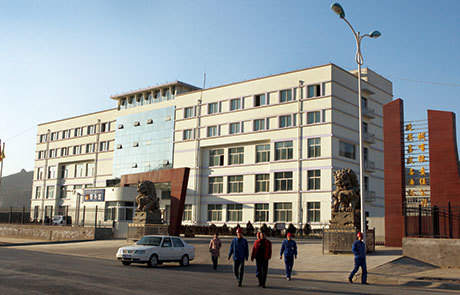 Yan'an Jiasheng Petroleum Machinery Co.,Ltd.is a large modern petroleum pipe processing enterprise in Northwest China.After more than 30 years of development,the company now covers an area of 102 mu,with a total investment of 330 million yuan and 346 employees.It has an annual production capacity of 300000 tons of oil tubing and casing and 5 million meters of sucker rod.It is a large-scale petroleum machinery manufacturing enterprise in Northwest China.The company is located in Yan'an City,Shaanxi Province,the holy land of revolution,adjacent to Yan'an airport and North railway station,and in the area of Northern Shaanxi oil resources,with convenient transportation.According to the modern enterprise system,the company has established a production operation and management system integrating design,development,production,sales and service,with 6 functional departments and 4 production workshops.
Six oil pipes,casing production lines and one pipe coupling production line in the company's oil and casing workshop are all operated by numerical control lathe,and each auxiliary operation post also realizes computer automatic control,implements assembly line operation and online detection,and organizes production in strict accordance with API specification.The products cover¢60.32mm-¢339.72mm and other oil tubing and casing products of various specifications and wall thicknesses,with high machining accuracy.
Sucker rod workshop adopts sucker rod flat forging machine,sucker rod numerical control lathe,tunnel type sucker rod shot blasting machine,sucker rod quenching furnace,sucker rod tempering furnace and other equipment,and has the ability to produce multi specification sucker rods such asф16~ф25.
The company has more than 120 sets of testing equipment and more than 70 experienced inspectors,and has established a perfect quality system.The product chemical composition analysis,mechanical property test,thread inspection,hydrostatic test,non-destructive testing and other inspection items are strictly carried out according to the quality management system and API standards,with hierarchical control and level by level control,so as to ensure the quality of products.
In the daily operation of the company,the integrity management is the foundation of the enterprise.Through unremitting efforts,the company's products in Northern Shaanxi won API certification of American Petroleum Institute,quality(ISO9001:2008),environment(ISO14001:2004)and occupational health and safety(GB/t28001:2001)three system management certification in early 2007,and sucker rod products were awarded by AQSIQ The company is also a member of"energy No.1 network"of CNPC,and a qualified material supplier of Changqing Oilfield,Chuanqing drilling engineering company and PetroChina CBM.At the same time,the company has also won various honors and titles granted by government departments at all levels:the company was recognized as a high-tech enterprise in Shaanxi Province in 2014 and a private science and technology enterprise in Shaanxi Province;the oil casing products were rated as famous brand products in Shaanxi Province by Shaanxi provincial government for many years in succession;in 2011,the company was jointly awarded the title of A-class taxpayer by Shaanxi Provincial State Tax Bureau and local tax bureau;in 2010,the Jiasheng trademark was awarded by Shaanxi provincial government The Bureau of industry and Commerce rated it as a famous trademark of Shaanxi Province,a credit and integrity enterprise of Shaanxi Banking Association in 2009,an advanced unit of safety production in Yan'an City in 2009,an excellent private enterprise in Yan'an City in 2008,an excellent processing enterprise and a large taxpayer in Yan'an City in 2008,etc.The acquisition and perfection of these qualifications and honorary titles have laid a solid foundation for the enterprise's market exploration and further development.
For a long time,the company adheres to the service-oriented and market-oriented guidance and principle,pays attention to quality inside and image outside,constantly improves service institutions and service network,strengthens pre-sale,sales and after-sale service of products,improves service level,and strives to transform from traditional manufacturing enterprises to modern service-oriented enterprises.The products are mainly sold to Yanchang oilfield,Changqing Oilfield,PetroChina CBM and Suzhou oilfield Rieger oilfield is also exported to Kyrgyzstan,Kazakhstan and other countries and regions.The products have been used in the above oilfields for a long time without any quality accident.With the product quality,perfect service and good reputation,they have won the long-term trust and praise of users.
Innovation is the driving force of enterprise development.In order to better develop new products and serve the oilfield,the company gives full play to its own technical potential,and carries out extensive technical exchanges and cooperation with universities,companies and research institutions at home and abroad to continuously research,design and develop products suitable for deep wells,high deep wells,high temperature and high pressure oil wells.At present,the company and domestic well-known research institutions have made a breakthrough in technology in the development of casing buckle project.The product has passed the identification and evaluation of the oil pipe authority,and has been used in the gas wells of Shaanxi Yanchang oil group oil and gas exploration company since 2011.Up to now,more than 3500 tons of casing buckle have been used in batches.With the help of precision processing and strict detection,special buckle has been used The service condition of casing is good.The project comprehensively considers the advantages and disadvantages of the current special buckle at home and abroad and the use environment of the product from the design.Combined with years of research data and product use,the product has high processing efficiency,good adaptability to working conditions,good anti tension,bending and other composite loading capacity and excellent gas sealing performance,which can be widely used in deep wells,high deep wells and high temperature and high pressure wells And other oilfield and gas field production environment.This product is a high-tech product with high technology content and high added value,which can effectively solve the deficiencies of API standard product design,and comprehensively provide oilfield companies with API standard products and non API standard products with complete specifications and characteristics suitable for demand.
Through continuous improvement and innovation,the company constantly improves the management level,improves the product quality and service level,adheres to the road of professional high-quality processing,and strives to build Yan'an Jiasheng Petroleum Machinery Co.,Ltd.into a high-quality processing base for oil pipes and instruments in Northwest China and even in the whole country.